Welcome to Itsuwaribito Wiki

Welcome to the Itsuwaribito Wiki, the database for the manga Itsuwaribito. We're a new wiki and everyone is welcome to help out. If you know something about Itsuwaribito, then go ahead and add it to this wiki. Feel free to contribute by making an edit or two, or adding a picture, and take some time to browse through. Please help us by creating or editing any of our articles!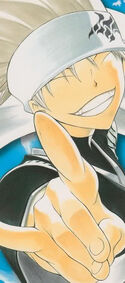 Utsuho Azako
(天邪狐 空, Azako Utsuho) is an itsuwaribito and aims to help people by telling good lies. His goal is to save hundreds, or even thousands of people with lies. He is the main protagonist of Itsuwaribito.
Utsuho was originally the son of a government official, and lived in a mansion along with the rest of his family. One day, he was tricked by several bandits into giving away information about the mansion and staff. The bandits then killed everyone, which led Utsuho to believe that honesty was for fools. He was then taken in by the Village of Orphans. The village leader, Osho took him in, and treated him as if he was his own child. He felt as if telling him what happened in his past wasn't his fault, would just remind him of his painful past, so instead he constantly told Utsuho to live an honest life, and that being honest was completely right. Once Osho died, Utsuho promised to him that he would save hundreds, or even thousands of people with lies, and that since Osho raised him, it would be the same as if he saved them.
Read more...

Hi everyone, and welcome to the wiki! The Itsuwaribito wiki is still a new wiki, and we'll need a lot of help to get things up and moving. Whether it's adding a picture, making a slight change, or creating a page; just remember, every edit counts. So take your time to look though our pages and maybe, in your free time, stop by to make a change or two.


Loading RSS data...

How would you rate this Manga?